The absence of any real snow this year has been a kind of mixed blessing for me. While I would have preferred to be outdoors painting, the lack of snow has left me with the usual brown/gray/dull colors that are normal for my area at this time of year. Since I have not been going out to paint it seemed like a good time to get some commissions out of the way.
This one has been around for quite some time and I finally have it completed (or, almost completed…I need to make a few tweaks here and there.) It was commissioned by the operators of the Cold Spring Harbor Fire House Museum in Cold Spring Harbor, NY. The gentleman who owns it rescued it from the wrecking ball, picked it up and moved it to its current location and meticulously restored it to its original condition.
He contacted me some time ago asking if I would do a painting of it for him to display in the museum. The old illustrator in me was awakened and became excited about the possibility of painting the firehouse when it was a going concern back at the turn of the century. My client agreed and I set off to do my research.
The problem, which I did not consider, was that I am no longer the kind of painter that I was when I was an illustrator. Illustration work involves hours of researching, sketching, and careful rendering over many hours spent working on the same picture. My temperament now is much more along the lines of quickly painting on site, normally finishing a picture in a matter of a couple of hours "alla prima" or in one sitting. While my enthusiasm for the project never waned, I often put the project on hold when the weather was good and I could go out to paint.
I decided that I needed to get this finished and since the "pickings have been slim" around here, I decided to knuckle down and get this done.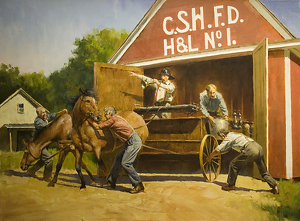 "Cold Spring Harbor H&L no.1" Not For Sale
But the moment that was completed I felt the need to bash out a small landscape. If I'm away from it for too long, the lure of the alla prima statement comes back and hits me hard. One of my students showed me a photo during class last week and asked if I thought it would make a good painting. I responded by saying "give it up…GIVE IT UP!" and asked him to email the file to me. I had to keep fighting the urge to put a fly fisherman in, working the tail of that lovely run that comes out of the distance.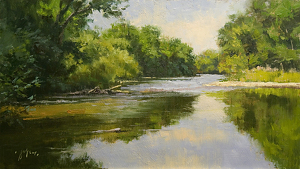 "The Battenkill" 9 X 16 oil on panel. Click on the link below the painting for purchasing details.
Summer is coming, my commissions are out of the way, and I'm ready to go out to paint!
Note that all of these small sketches are available for sale directly from me via this website. Simply click on the link below the painting for purchasing details. The price includes shipping costs in the continental United States. All others please inquire about shipping rates.