Wow! We have finally dug out of what can best be described as Old Testament conditions here in the Northeast. First we had a very noticeable earthquake followed about five days later by the arrival of Tropical Storm Irene. Houses shaking, wind blowing, tree limbs down, no electricity for three days and about three inches of water in the basement. It took a while to get everything straightened out, bailed out and dried out but I was finally able to get back outside to paint.
I started this painting the night before the arrival of Irene. I figured I wouldn't be able to get out the next day and decided I was long overdue for a studio painting. As I mentioned above, we were without electricity for about 3 days so I had to wait a while before I could get back to the easel to get it finished but am happy with the results. Painting outdoors helps to "inform" anything that might be done in the studio…you learn a lot about how nature behaves when painting on site and can use that knowledge with great benefit in the studio.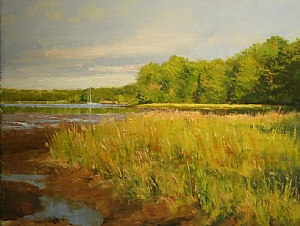 "Moored For the Evening" 14 X 18 oil on canvas. Contact me if you are interested in purchasing this painting.
There had been a paint out scheduled in Oyster Bay, which is very near to where I live in Locust Valley, for the day that the hurricane was forecast to arrive. The event was to take place on the grounds of the Sagamore Hill National Historic Site which was the home of Theodore Roosevelt. These are lovely grounds with a nice view of the house, the surrounding fields and orchards as well as a short hike to a lovely view of Cold Spring Harbor. I had not painted out there in years and decided to go scout around for possible paintings a week before the scheduled event. This small study was a result of that trip.
"Eel Creek Beach~Sagamore Hill National Historic Site" 8 X 12 oil on canvas. Contact me if you are interested in purchasing this painting.
The Sagamore Hill event finally got underway on the 9th of September. I had spotted this view the previous week on my way up to the beach and decided to stop this time and have a go at it. This photo was shot before I added some cool red wildflowers in the foreground and in the left hand shadows. Unfortunately I did not re-shoot it after the changes because it worked much nicer…so much so that the painting sold at the opening the following night.
"Up To The Barn" 12 X 12 oil on canvas. Sold
Friday afternoon found me back not far from where I painted in the morning. I was hot and tired but cannot resist great light on the trunk of a tree. This began as a study of the trunk and tree but grew into something that has a nice warm and peaceful feeling to it.
"Sagamore Maples" 11 X 14 oil on canvas. Contact me if you are interested in purchasing this painting.
I planned to paint with my buddy Anthony Davis on Saturday morning. We arrived at the site early and made our way down the lovely wooded path to the beach. I immediately gravitated to the spot I had painted the week before. The overcast was just starting to break up and I was treated to one of the nicest skies I've ever had the opportunity to paint on site. In fact, this was somewhat of a backwards painting for me. A sky that active won't stay still for long and experience told me that I wouldn't have much time to get it down on the canvas. I laid in a wet line where I knew my horizon would be and then set about laying in and finishing the sky in one shot then moved on to get the distant headland and the near shore.
"Saturday Morning~Sagamore Hill National Historic Site" 12 X 16 oil on canvas. Framed and available for sale from the Oyster Bay Historical Society. Contact me if you are interested in purchasing this painting.
Next week will find me taking part in a paint out in beautiful Cold Spring Harbor. Hopefully there will be no more natural disasters and I will be able to have some nice paintings to share with you then!