The Blog
I had a wonderful day painting with my good friend and colleague Anthony Davis today at Sunken Meadow State Park which is located on the North Shore of Long Island, New York. Ant and I arrived at 10AM and immediately set out to look for a location that excited us. Our first try ended in what has become typical style for us! We set up along a tidal bank to paint a beautiful scene after being advised by a passing kayaker that the tide was indeed still going out. While I remain convinced that our adviser was sincere he was, however, wrong. Within about 5 minutes the leg of my easel, which was a good 12 inches away from the bank, was very suddenly in about 6 inches of rising tide! Break down and run became the order of the day.

Upon arriving on higher ground we came upon the view that you see here which pleased us even more. I am very satisfied with the result and feel it is my best on site effort to date. While we had a fairly constant midday sun I am in the habit of not spending longer than 2-3 hours on one piece while on site. If you are painting early or late in the day the change in the direction of the light is quite dramatic which is not so much the case with this sort of constant top light. However, within just under 2 hours I was very happy with my result and didn't want to risk overworking the painting. So it was time to put down the brushes and pack up...for the second time that day!
Comment on or Share this Article >>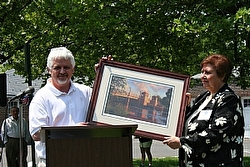 Today I had the honor and pleasure of presenting a print of my Bayville Bridge painting to the Mayor of the Village of Bayville during the Village's 90th Anniversary celebration. Artists usually spend a great deal of time alone and so I was a bit taken aback when Mayor Victoria Siegel asked me to say a few words to the rather large crowd! I recalled how there were pleasure boats coming and going and a large number of people relaxing on the deck of a clam bar/ bar behind me while I worked on that Labor Day weekend a few years back. If you are from this area then you know that Bayville does this sort of day very well. A beautiful summer afternoon is a Bayville kind of day.
I'm very happy and proud that my picture will have a home in Bayville and I offer my heartfelt birthday wishes to this little village on the water. Happy Birthday Bayville!
In honor of this celebration I am offering a special price of $75 which is $20 off the normal price from now until June 23rd on the print of the Bayville Bridge. **Note that this price does not include shipping charges. If you are local contact me via this website to make arrangements to pick up your print. Shipping charges are an additional $15**.
Click here to view the print: Bayville Bridge Limited Edition Print.
Comment on or Share this Article >>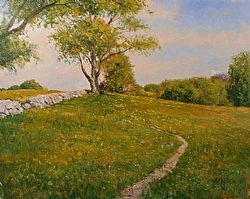 I have dreams at night about locations like this. This was painted after a recent trip to the North Salem Open Land Foundation in North Salem, New York. I had the feeling that I was walking through a museum devoted to the rural American landscape of the past. The property was owned years ago by a man named Paterno who raised bulls which explains the very picturesque stone walls which snake through the entire property.

I must apologize to Mr. Paterno for knocking down a section of one of his walls in my painting. It is a tribute to the skill of the people who put up the walls that they are still almost entirely intact. But I felt I wanted the viewer to have a way out to the meadow on the left and the beautiful tree just over the hill which is how I spent my time there...walking from meadow to meadow enjoying the sun and the quiet.
Comment on or Share this Article >>