Bad weather doesn't usually dissuade me from going out to paint. It rained all week long during the Wayne, PA plein air event this past May and I have outfitted myself to go out in the cold of winter. Most on site painters say that they can tolerate anything other than wind but, unless it is the middle of a hurricane, I find that even the wind doesn't bother me too much. I painted once on the beach at Cold Spring Harbor on a day that saw 40 MPH gusts but I just set up in the lee of a tall tree. If you are going to devote yourself to painting outdoors you can find ways to make it work.
That is as long as it isn't the kind of day we had this past Saturday! The temps hovered at around 33 degrees and there was a day long wind driven rain/sleet/snow. This was on October 28th and some places north and west of me got anywhere from 6 inches to a foot of heavy, wet snow. Even I decided that the best thing to do was to stay inside and do some other chores.
I did finally get out this morning and headed back out to Sagamore Hill National Historic Site in Oyster Bay. In case you are not aware, Sagamore Hill was the home and is the final resting place of Theodore Roosevelt. The grounds are lovely, beautiful trees, orchards and open fields. There is also a short albeit very steep trail which winds through a lovely wooded area down to the shore of Cold Spring Harbor.
People often say that my paintings are very peaceful which makes me happy but, honestly, this is something I am not usually aware of. By that I mean that I don't set out to paint a "peaceful" painting. I am usually only aware that I am trying to make the best painting that I am capable of at that time. However, this setting was so quiet on this day that I was aware of trying to get a sense of that into the painting. I couldn't begin to tell you how I went about doing that…but I'm pretty pleased with the result!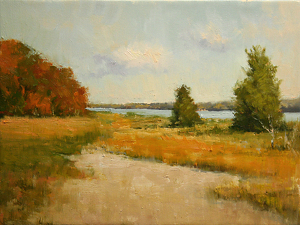 Eel Creek Autumn9 X 12 oil on canvas. Click the link for purchasing details.
Note that all of these small sketches are available for sale directly from me via this website. Simply click on the "Paintings and Prints" tab and then on "Available Paintings". The price includes shipping costs.