If it is summer then it is time for Plein Air Easton in Easton, MD from which I have just returned. This was my fourth year as a competition artist and I am proud to say that this year I won a major award...more about that later.

PAE! is now the largest event of it's kind in the country. As the artists were leaving on Sunday we were informed that the event sold over $300,000 worth of wet art in two and a half days! Run by The Avalon Foundation, I can also tell you that it is the most impeccably organized event of it's kind. There is no detail too small to escape their attention. The artists are made to feel so welcome and comfortable that I have come to think of the event as my home away from home for ten days in July. The infamous mid-Atlantic July heat was present but it is something that we all accept and try to deal with as best we can.

Unfortunately, I have not yet found a way to get good photograps of the paintings while out on the road. Some of what follow were taken with my phone but were the best I could manage.

This first image was the first I painted down in the lovely town of Oxford early Saturday morning.



"Oxford Morning Solitude" 9 x 12 o/c sold

Saturday evening featured the gala opening and welcome dinner for the artists and collectors held at one of the many magnificent private residences along the river. All the artists set up and painted, giving the collectors a chance to mingle with us, meet us and get a feel for the work we do. I had just finished my painting and had it sitting on my easel when suddenly it was spotlighted from above!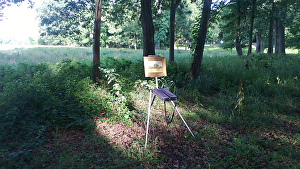 This next painting was special to me for a number of reasons. I was invited one evening, along with a few of the other artists, to dinner at the home of one of the organizers. Perched on a bluff above one of the rivers, there was a long, beautifully set table. Great food, great company, lots of good wine, fireflies rising out of the grass...the kind of evening you never forget! I did this nocturne from memory two days later (something I've always wanted to attempt) and was very happy with the result.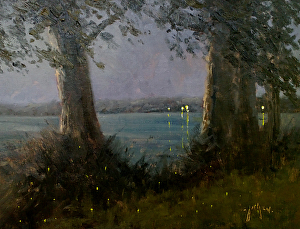 "A Summer Evening Remembered" 11 x 14 o/c sold

My friend Cindy Baron, who is a wonderful painter, invited me to go painting with her one evening at a private home that she had access to. She promised me that the views were great in every direction...and she was not exaggerating!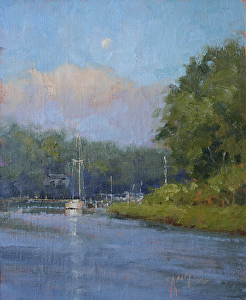 "Moonrise Over Le Gate's Creek" 10 x 8 o/c sold

Which brings me to the big news! The final Saturday in Easton is for "Quick Draw". All of the competition artists along with a number of people, about 200 artists in total, set up in a small, defined area of downtown Easton and have two hours, from 10AM until noon, to produce a painting. Afterwards, we have to frame it quickly and then set it up on our easel on Harrison Street where people can view and purchase the work and where the juror can make his decisions. The competition juror this year was the great Don Demers who is one of the foremost marine painters in the world today.

I am very humbled and proud to be able to tell you that I was awarded first place in the Quick Draw! Don further honored me by purchasing the winning painting (actually, I don't know which means more to me, the award or the fact that he saw fit to add it to his collection!). Following is an image of the winning painting and a photograph of me making my way through the huge crowd to the awards platform. A day I'll never forget!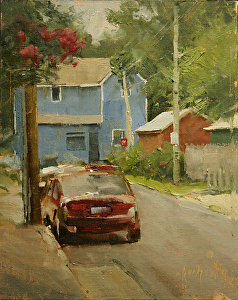 "Red, White and Blue" 10 x 8 o/c sold